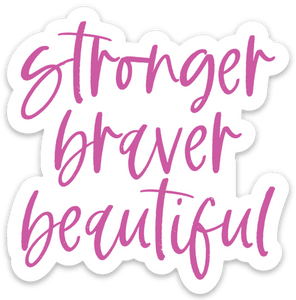 "You gain strength, courage, and confidence by experience in which you really stop and look fear in the face."  Eleanor Roosevelt 
Stick this sticker on your tumbler, car, mirror, locker, notebook, or even your laptop to remind you of all the struggles you have overcome!      
2.96" x 3" White die-cut sticker with pink font
Durable Vinyl Matte Finish
Weatherproof
Fade Resistant (3-5 years)
Water-Resistant
Indoor/Outdoor Use 
Proudly made in the U.S.A.
*image not actual size     
♥ Making you smile and giving back.  With each purchase, a portion of sales is given to world-changing charities that support making a difference.