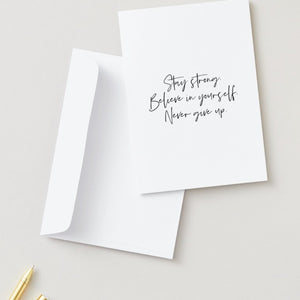 Sometimes when going through something traumatic these words are difficult to remember - give yourself grace and know you are doing your best - Stay Strong.
Believe in yourself. Never give up. 
Perfect for sending a dose of encouragement to your loved ones during life's toughest moments. Surprise them with a heartwarming message that they'll cherish and remember for years to come. 

*This print is also available in a sticker decal.
Black printed ink
Crisp white matte deluxe paper folded 
Blank inside
Size 5x7
Pure white envelope 
Proudly made in the U.S.A.

*image not actual size     
♥ Making you smile and giving back.  With each purchase, a portion of sales is given to world-changing charities that support making a difference.