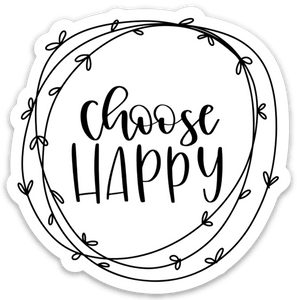 Happiness is a choice, not a result.  Nothing will make you happy until you choose to be happy.  Your happiness will not come to you.  It can only come from within you.  A simple but yet mighty reminder to stick on your laptop, water bottle, car, locker, mirror, or any other surface to remind you to choose happiness every day.  
Decorate and personalize planners, mirrors, water bottles, laptops, lockers, phone cases and so much more!
This design also comes in a magnet version.  
2.97" x 3"
White sticker with black font
Durable Vinyl Matte Finish
Weatherproof,
Fade Resistant (3-5 years)
Water-Resistant
Indoor/Outdoor Use 
Proudly made in the U.S.A.
*image not actual size 
♥ Making you smile and giving back.  With each purchase, a portion of sales is given to world-changing charities that support making a difference.