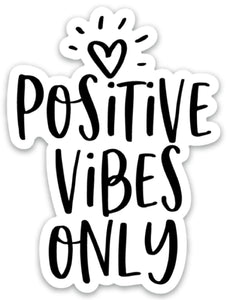 Train your mind to see the good in every situation - positive vibes only!  
This design is also available in a sticker version.  
2.23" x 3" 
White magnet with black font
Weatherproof
Water-Resistant
Indoor/Outdoor Use
Can hold a few pieces of paper to a magnetic surface
Magnets are 15 mils (381 microns) thick. With laminate and coating, the total thickness is 19 mils (482 microns)
Proudly made in the U.S.A.
*image not actual size 
♥ Making you smile and giving back.  With each purchase, a portion of sales is given to world-changing charities that support making a difference.